Lecture Series 2020: Autonomy in the digital age?!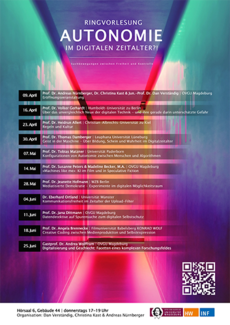 15.02.2020 -
The interdisciplinary lecture series of the faculties of humanities and computer science, which takes place in the summer semester 2020, combines philosophical, cultural, educational and educational perspectives with positions from computer science and political science. The lectures are going to adress aspects of creating autonomy in the digital age against the background of freedom and control.

The lecture series takes place every Thursday from 5-7pm in lecture hall VI (building 44).

More information is available on the project page at autonomie.ovgu.de.